Each month we're giving you an opportunity to get to know our team. This month our feature employee is Allen Forrest.
HBD is a small company that operates with integrity and reliability. We are a team that works hard to meet and exceed our customer's expectations. We hope that by getting to know our team better we can strengthen our relationships. www.hbdinc.com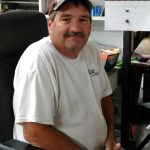 Allen Forrest,  Shipping & Receiving Manager
How did you first learn about HBD?
From a friend who worked here years ago.
How long have you worked at HBD?
Over 23 years.
What is your role at HBD?
Shipping & Receiving manager.
What is your favorite part about working at HBD?
The people I work with. Some of them are more than co-workers, they are my life long friends.
What are your three most overused words/phrases?
"Well, well, well", "Yes dear", "This is disastrous"
What's one thing you couldn't live without?
My wife, Darlene.
Where is your favorite place to be?
Home with my family and my dogs. Love my dogs!
Tell us something that might surprise us about you.
All animals seem to like me….kids too!