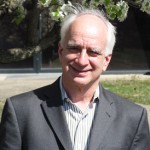 Sadly, as a group they are not.  For decades a majority of hospitals have used disposables that clogged landfills.
This has been a result of three primary factors:
Using hospital space for a laundry is inherently wasteful and inefficient, resulting in efforts to reduce laundry space and use.
EPA regulations have allowed users to define goods as recyclable even if they are disposed of in landfills if they are made of recycled material.
Local landfills generally do not charge more for waste that is simply dumped.
Additionally, most textile products are not made from recycled material, so hospitals can seem greener by using say, plastic made from recycled material, even though it is used only once and discarded into a landfill.
Finally, these factors that underlie the wasteful use of disposables are being eliminated:
Central laundries have changed the economics of hospital laundries, making reusable's more than competitive with disposables.
Now EPA regs only allow something to be called recycled if, in addition to being made of used material, it will likely be disposed of in an environmentally satisfactory way.
States and municipalities are beginning to outlaw plastic bags or to charge extra because of the cost of disposal.
Also, many hospitals see "green" as something positive, and so are genuinely interested in recycling.
HBD is the leading independent supplier of reusable bags for hospitals.  We worked for two years to develop bags made of 100% recycled material.
We are proud to announce the introduction of EnvironShield hospital laundry bags.  These bags are made of 100% polyester fabric produced from discarded water and soft drink bottles.
The bags come in 70 denier or 200 denier versions, both barrier and non barrier.  HBD currently offers EnvironShield bags in blue and yellow, though we can produce other colors specially.
Only HBD offers bags that help reduce the clutter of discarded plastic bottles and are made from 100% recycled fabric.
Call us about it today.