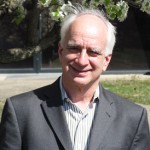 Hospital bags are bags with a protective flap that inhibits the spread of microbes. They were invented and patented in the 1960's by the Hartford Self-Closing Bag Co. (HARCO). HARCO's president, Peggy Baviar, known to everyone as "Peggy B", was a constant fixture at shows, sticking embroidered bees on every bag she sewed.
Peggy B. sold the company in the late 1970's, and that company sold it to HBD in 1981, which is when Beline Products started. Beline has since become the leading independent provider of hospital bags.
Hospital bags were originally made of bias cotton or poly/cotton used mainly by the tire industry for tire belting until radial tires changed tire design. Then the VA pioneered synthetics by specing heavy spun/filament. Competitors began reducing pricing by using solid poly/cotton or 200 denier bags. Then the developers of polyester barrier fabrics began using fabric that did not test high enough for garment manufacturing for bags.
Today cotton is no longer used and poly/cotton is not widely used because cotton absorbs moisture, odors and germs, and because it stains. Now, 200/210 denier fabrics are the most commonly used fabrics, though polyester is generally used for hospitals bags instead of nylon. Many hospitals use 70 denier barrier fabrics. These breathe and repel liquids.
About two- thirds of hospitals do not use re-usable bags. Instead they use poly bags. Those are much cheaper, of course, but do not inhibit germs, and they clog up landfills. One would expect these to be outlawed, which is already happening in some areas. People are realizing now that germs in hospitals present a serious and often lethal challenge. It would not be surprising to see lawsuits against hospitals that do not use bags with flaps, since these are much safer than bags with cords.
Which bag you use depends upon your control and needs. No sense to buy an expensive bag, for example, if you will lose them before they wear out. HBD's hospital bags come in one main size, 30×40, but also several others, such as 24×36, 36×40 and 40×40. They come in white or colors, and with several options.
Our team here at Beline will ask questions to help you determine which bag is best for you. Bags are a major business for us, so we have to do it better than other companies!