Each month we're giving you an opportunity to get to know our team. This month our feature employee is Jesse Lynn.
HBD is a small company that operates with integrity and reliability. We are a team that works hard to meet and exceed our customer's expectations. We hope that by getting to know our team better we can strengthen our relationships. www.hbdinc.com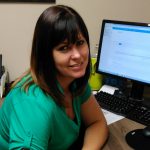 Jesse Lynn, Customer Service & Special Projects
How did you first learn about HBD?
I worked for HBD's sister company Buckhead Betties several years ago. After that I opened my own business making my own line of jewelry.
How long have you worked at HBD?
I still have my own business, but came to work for HBD in March 2015.
What is your role at HBD?
Customer service and Special projects manager.
What is your favorite part about working at HBD?
We are like a family.
What are your three most overused words/phrases?
"Know what I mean?", "Seriously?", "Holy Cow"
What's one thing you couldn't live without?
Coffee
Where is your favorite place to be?
In the mountains where the only sound is nature!
Tell us something that might surprise us about you.
I was in a dance group in high school with girls from church. We danced to MC Hammer type music!